The BDP Family is comprised of talented and dedicated event producers, chefs, coordinators, drivers, servers and bartenders who bring energy and pride to their work.
Heidi Moorman Coudal
Owner + Culinary Director
Heidi's interest in food began with a copy of her mom's Officers' Wives Club Cookbook. Born in Munich, Germany while her family was living abroad, Heidi lived your typical military kid lifestyle, moving often and to a crazy menu of places: Germany, California, Greece, Alabama, Oklahoma, South Georgia, etc. Wherever they moved, so went the latest copy of the OWC Cookbook and new recipes for her to make with her mom for "bridge night" or dinner parties. Her favorite childhood memories were the summers spent traveling and camping around Europe in the family's red VW bus with her mom, three siblings, art books and a Michelin Guide to help them find good places to eat in the towns they visited.
After college, including a semester abroad in India, Heidi moved to Chicago and began working in film production as a production coordinator and producer, and later worked with a rock & roll caterer to help make ends meet. She noticed there was a need for catering to film sets and backstage at concerts, so Big Delicious Planet was spontaneously founded in 1994 with her older sister, Ellen (who has since moved to the UK). BDP's first job was catering backstage for the band Aerosmith at the newly opened United Center, and the company spent 19 years catering at venues such as The Riviera, The Chicago Theater, Alpine Valley, the Aragon, the venue in Tinley Park and many more. During that time, and to this day, BDP catered film and photo shoots, private events, weddings and regular corporate accounts.
Heidi constantly seeks new sources of inspiration to ensure the company's culinary and event teams are evolving and staying passionate in order to be anything but your typical "catered food". Her mantra of "just do it" inspired her to open a cafe, the Canteen, in the front of their West Town kitchen in 2011. That same year Heidi's dream of having an herb garden was realized when she planned and built an incredible urban farm on three adjacent undeveloped city lots. Most notably, in 2013 BDP became the nation's first caterer to earn 4 Star Certified Green Restaurant status, and was named "The Greenest Caterer in America," a title they still hold.
Heidi enjoys dreaming up new concepts from her travels around the world, and the diverse ethnic culture and cuisine of Chicago. She enjoys spontaneously throwing a parties for friends, hot yoga on weekend mornings, biking the lakefront on summer days, drinking wine on her back patio, and hanging out with her family. Heidi and her husband, Jim, have three young adult children, each of whom came to BDP until they were 6 months old: two daughters (Isabelle and Grace) both students at the University of Michigan, and a son (Spencer) at Lane Tech College Prep. To learn more about Heidi, check out her "Seriously Badass Women" feature and Voyage Chicago Magazine story.
Grace Hamilton
Director of Weddings + Events
Grace joined BDP in 2015 and leads the Wedding + Events team. Grace works on all stages of wedding and event production, with the goal to make your gathering fun and stress-free. Coordinating with local vendors, styling tablescapes, and incorporating natural ingredients and in-season produce are all aspects that drew her to BDP after working at Catalyst Ranch, one of BDP's top clients. With a background in natural + organic food, and venue management, Grace's latest interests have drawn her to developing BDP's locally focused beverage program. Grace loves to travel, and while on her adventures find other farm-to-table businesses around the world. Outside of work you'll likely find her at local live shows, hosting dinner parties and game nights for her friends, biking around the city, practicing yoga, and sipping creative cocktails.
Diana Castro-Munoz Assistant Event Producer
Diana is the newest addition to BDP's Wedding and Events team. After graduating from North Central University in Minneapolis, MN, she moved to the Windy City to embrace the city life. Her years of event rental consulting and event planning for non profits led her to forge a career in events. As a true people person, she can find a way to connect with anyone in the room. She loves spending time with family, traveling the world, and enjoying nights out with friends.
Liz joined BDP in 2018 after working as Sous Chef at La Sirena Clandestina and Head Prep Cook at Dusek's.
Garrett Duncan Brand + Creative Manager
Garrett joined BDP in 2018 as a recent graduate from DePaul University, where he studied Public Relations & Advertising and Photography. He manages our social media accounts and website, designs client wedding menus and signage, and is BDP's in-house photographer. When he's not at work, you can usually find Garrett enjoying a show at one of Chicago's many great live music venues or biking along the lakefront.
From left to right: Sam Smith (Barista), Mike Meyers (Manager/Barista), Jackie (Breakfast Cook).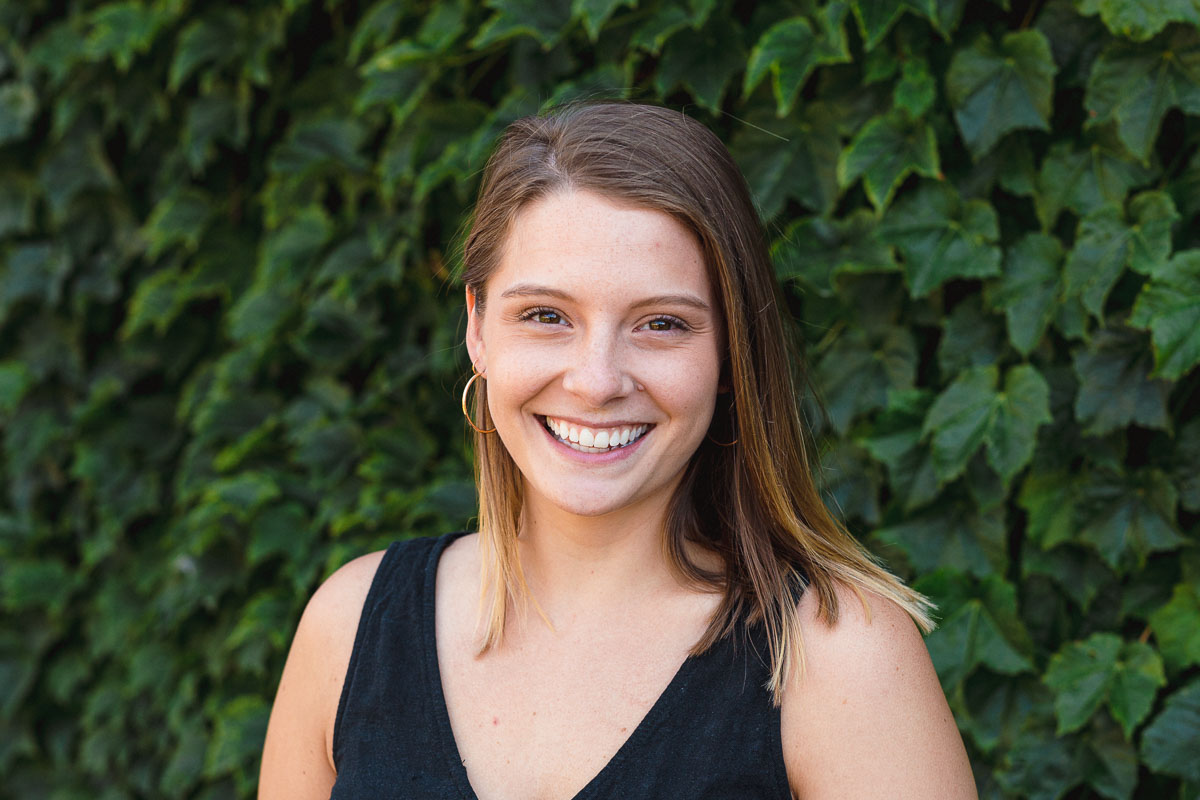 Chelsey Lange Wedding +
Event Producer
Chelsey joined BDP's Weddings + Events team in 2017, as a recent hospitality graduate from the University of Illinois. She produces wedding and events, including many of the events held in BDP's urban farm and Canteen. Before graduating, she'd already spent many years in the industry, from working in country clubs where she managed a small staff, to serving in Chicago restaurants like Presidio, she gained an appreciation for attention to detail and service that makes every experience unique. When she's not working, you can find her taste (and sip!) testing all over the city or jet setting to the West Coast. Entertaining friends in her home and all things plants are where her passions lie.
Tom Bronny Executive Chef
As BDP's Executive Chef, Tom leads the culinary team in creating innovative and delicious menus, sourcing ingredients from sustainable and local vendors, and assisting in choosing crops grown in BDP's Urban Farm. Tom joined BDP in early 2017 after working as Sous Chef at The Promontory, and Chef de Partie at Dusek's and Longman & Eagle. He lived and cooked professionally in Door County, Wisconsin, Bellingham, Washington, and Amsterdam before settling into Chicago. When not working, Tom likes to travel, get lost in the woods, garden, eat, drink and cook for his family and friends.
Christina Pacheco Pastry Chef
Christina joined BDP in the summer of 2019 after two years as a lead pastry cook at Rivers Casino. She graduated from Kendall College in 2016 with a concentration in Baking and Pastry. She's worked as a pastry cook in Chicago at various bakeries and kitchens since 2012. Christina enjoys watching movies, arts and crafts, and writing in her free time when not exploring Chicago.
Hannah Shiekh Client Services Coordinator
Hannah joined BDP in November 2018 after 3 years as a wellness consultant for Heinen's Fine Foods. At BDP, she takes care of daily corporate catering and makes sure things are running smoothly in the office. She graduated from Miami University in 2015 with a degree in Health Promotion. When she's not at work, Hannah enjoys cooking for her friends and going to concerts around Chicago.
Dylan Hayworth-Weste
Urban Farm Manager
Dylan joined BDP in 2018 after spending two years with the McCormick Convention Center Rooftop Farm as farm manager. As BDP's farmer, Dylan oversees the entire operation from seed to harvest. He enjoys giving tours of our urban farm to students and groups interested in sustainability and urban agriculture.